HOME ABOUT US PORTFOLIO/OUR WORK THE LASSO KID STORY
STRATEGIES SERVICES BIO CONTACT US LINKS
ADVERTISING & mEDIA STRATEGIES Ads 4 LESS
Whether you're a new or seasoned advertiser, Lasso Productions has the affordable television production and advertising solutions that are right for you. Our goal is for your business to grow. That's why we take a comprehensive and realistic approach to creating advertising that fits your business and budget. If our
advertising is successful, then your business will increase and it's likely you'll continue to use our services. That's why we won't charge top dollar for productions and then spend your entire year's budget on a four week blitz. When planned correctly, television advertising will continually build the strong name recognition your business needs to be competitive in the marketplace.

Local broadcast and cable television advertising is absolutely the most cost effective medium for promoting your business, product or services. For over twenty-five years we've found this to be true over and over again. In our opinion, most businesses with sufficient budgets should always invest first in television advertising. With the advantage of sight, sound and motion, TV spots are more impressionable, more recognizable, and can increase awareness for your company more effectively than any other medium.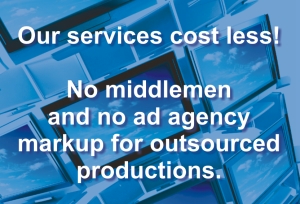 Please consider us for all your television advertising, production and media buying needs. With our twenty-five years of experience, we create effective advertising brings in new customers!

We also provide media buying services for radio, print, outdoor advertising and more. Additional production services include, radio spots, voice-overs, music recording, copywriting and graphic design. We create and maintain websites as well.