HOME ABOUT US PORTFOLIO/OUR WORK THE LASSO KID STORY
STRATEGIES SERVICES BIO CONTACT US LINKS
THE LASSO KID STORY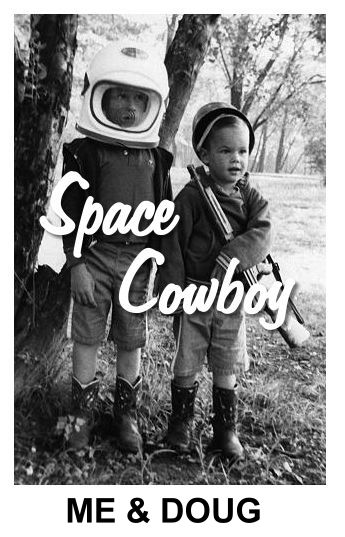 It's hard to believe that its been twenty years ago since I awoke in the middle of the night and the words just came out, "Lasso Productions". It was to become a new name for my film, video and advertising company. The concept most likely evolved from a combination of my baby-boomer childhood memories of cowboys, a fascination with mid-century cowboy collectibles (furniture, clothing, etc.), and a love for hillbilly roots music, including recent attendance at that time of live performances by Ralph Stanley, Dwight Yoakam, Asleep at the Wheel, Sleepy LaBeef and others (I remember having a "Ralph Stanley for President" bumper sticker on my Ford Bronco! Long before "Oh Brother Where Art Thou").
Needing a logo for the new name, I came up with the idea of a cowboy riding a camera with his rope spelling "lasso". This was a rather simple corporate looking logo. Shortly thereafter, I became acquainted with a young starving artist named Darryl Banks. I knew he was gifted the moment I saw his fantastically drawn comic book characters. It was only a matter of time before he would be discovered by the comic book world. But in the meantime, I provided Darryl with logo and design work on a freelance basis. He had an amazing ability to draw exactly as I im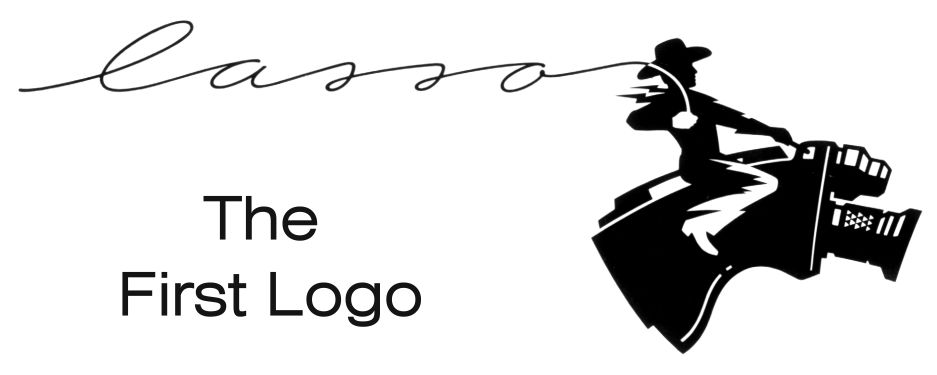 agined, sometimes right in front of me as I described my ideas. His work inspired and excited me, and soon we where discussing the re-creation of the Lasso logo as a comic book super hero: "The Lasso Kid". He was to be the superman of film and video productions, the "Teleranching Cowboy" who could easily rustle up the best creative projects on time and on budget! We did some story boards for a comic strip but I decided I wanted to convey The Lasso Kid message as a comic book cover. I told Darryl I wanted The Lasso Kid to be pictured flying over the Columbus, Ohio skyline with a lassoed mechanical / robotic steer that had a television head and an antenna tail. The steer was a representation of the advertiser's or production client's "target market" and we dubbed him the "Steeroid". Well, Darryl's hand painted "comic book cover" turned out stunningly and it can be seen on the back of Lasso Productions' brochures and press kits.
My film, video and audio production skills are self-taught and my venture into animation was the same. I always figured that if someone else can do it, so can I. I wanted to make a short animation of The Lasso Kid for the beginning of my Demo Reels. So, I bought some books and ordered an Oxberry type peg bar drawing board, some paper and animation cels (computer animation was in its infancy at the time). My next step was to convince Darryl that he could draw animation frames of the Lasso Kid and the Steeroid. After some time, Darryl started to get the process down. I would shoot his drawings onto video so we could see how the frames progressed. This helped us see where he needed to make changes or add extra frames and I learned to shoot the frames in the correct order for forward movement! Once satisfied with the pencil drawings, Darryl hand painted each and every cel, over 170!
Darryl Banks moved on to fame in the comic book world. He is best known for his work in the Green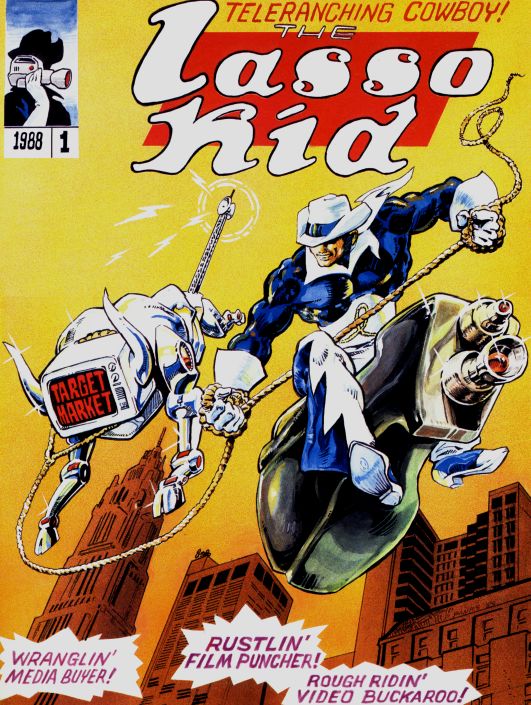 Lantern, Volume 3. I went on to many other projects, fatherhood and unfortunately, some difficult times. The project went on the back burner, but from time to time I would design ideas for animated backgrounds. Finally, within this past year, I was able to find the time to finish this project started so long ago. The number of hours in this short animation is staggering – maybe over a thousand! Darryl's cels were a great start but a ton of work still needed to be done. I scanned his paintings into the computer one by one and began the painstaking work of producing this project one frame at a time. I soon found that I needed to greatly expand on the number of frames that Darryl had drawn. I manipulated his paintings to add more movement and increase the overall number of frames. I created animated backgrounds and merged all of the elements together. Most of this work was performed in a Windows photoshop environment. Once sequences were complete, I moved them to Apple Motion and Final Cut Pro. The sound was added in Final Cut Pro. At some points I had eight tracks of audio running simultaneously. In all, this thirty second animation contains over 900 individual frames!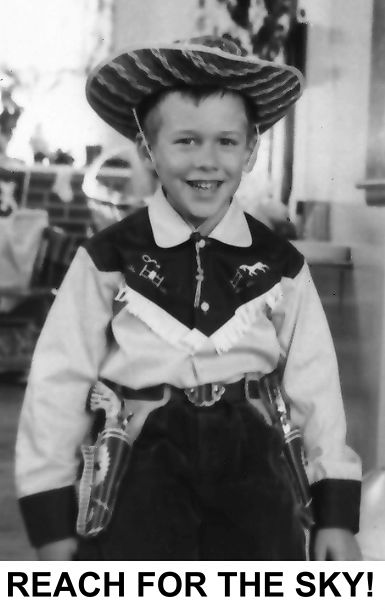 I don't ever see becoming a full-time animation person. I'll stick to much less labor intensive productions such as shooting and editing film and video. However, now that it's finally completed, I can sit back and enjoy. I hope that others viewing The Lasso Kid will also find it fun. And if anyone asks me about animation, I'll tell them not to attempt it without the help of a studio full of animators!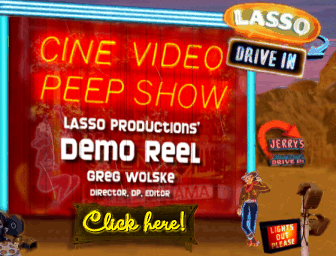 Greg Wolske
Producer/Director
Darryl Banks
From Wikipedia, the free encyclopedia:
Darryl Banks is an African-American comic book artist. He worked on one of the first

painted comic books, Cyberpunk, and teamed with the writer Mark Ellis to revamp the long-running The Justice Machine series for two publishers, Innovation and Millennium.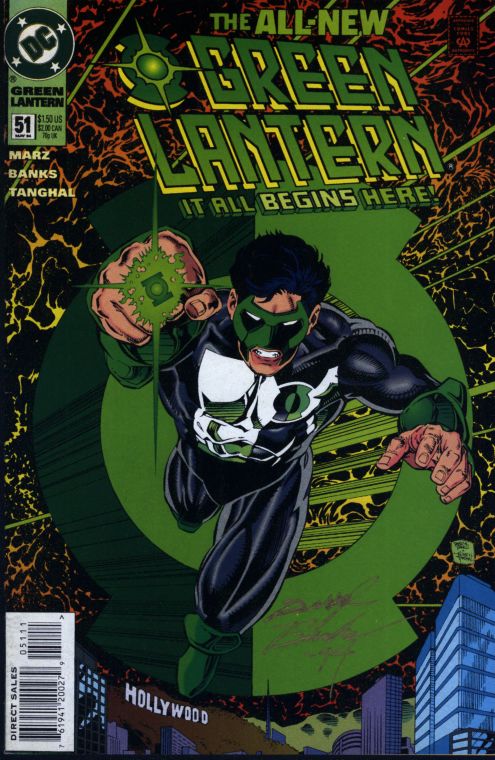 At Millennium, working with Mark Ellis, he produced a critically acclaimed mini-series based on The Wild Wild West TV series and what is considered to be the best comics adaptation of Doc Savage with The Monarch of Armageddon.

Banks is best known for his run on Green Lantern (Volume 3), which ran from issue 50 till 142 (though there were many fill-ins). Along with co-creating Kyle Rayner, he's responsible for designing costumes for Parallax, Grayven, Fatality, and Dr. Light. He's been under the radar in recent years, having not worked on any notable titles in some time. A recurring character known as "Banks" is part of the cast of the Outlanders novel series written by Mark Ellis, aka James Axler

.